2022 annual results
Solid operational performance, Consolidated financial structure Dynamic business development
9th March 2023
▪ In 2022, Keolis once again reported improved results, with €6.7bn in revenues, representing organic growth of 9.1% and 6.4% on a reported basis.
▪ The Group's operational profitability (recurring EBIT) was a solid €209 million, with margin stable at 3.1%.
▪ Net profit, Group share was positive at +€48 million, up €28 million from last year.
▪ Free cash flow came to €94 million, up from €73 million in 2021. This puts net financial debt at €974 million, down €56 million, and net debt/EBITDA covenant at 2.7x, a significant improvement over 2.9x in 2021.
▪ Business development was very robust. The Group recorded major gains, especially in France, and consolidated positions both in France and on international markets. Highlights included new contracts in Valenciennes and Perpignan, and renewals for Bordeaux, Dijon, Thameslink and Göteborg.
Marie-Ange Debon, Keolis Chief Executive Officer
Keolis turned in a very strong performance in 2022 thanks to dynamic business development in France, and internationally, which helped strengthen our market positions. Our quest for operational excellence in core business lines has been and continues to be an absolute priority, with a special focus on delivering quality passenger service that public transport authorities expect. With public transport ridership gradually returning to near pre-Covid levels, we swung into action in early 2022 to address the labour shortage, rolling out a proactive recruitment programme to attract and retain new employees. Once again in 2022, Keolis showed that we can successfully deploy skills and operational expertise. Examples include the launch of Metro Line b in Rennes, and our performance at major international events, including the World Cup in Qatar and the Australian Open in Melbourne. Buoyed by these results and commitments, Keolis Group takes an optimistic view of the future, despite the challenges, as we deliver quality execution and pursue a selective strategy.
2022 financial year shows a marked improvement reflecting a strong opertional performance
In 2022, Group revenues came to €6.7bn, representing 9.1% organic growth and 6.4% on a reported basis (+€402 million) from 2021.
Recurring EBITDA was €647 million in 2022, down from €690 million in 2021, due largely to the exit from Germany and termination of the Wales & Borders contract in the UK.
The Group's operational profitability (recurring EBIT) was a solid €209 million, with margin virtually unchanged at 3.1% vs. 3.2% in 2021. Negative impacts due primarily to recruiting difficulties and labour shortages were partly offset by increased volume and by productivity gains.
Net profit, Group share was €48 million in 2022, a steep €28 million increase from 2021. This reflects the combined impact of a strong operational performance, controlled financial expenses and the contributions of associated companies, particularly in the UK.
Net financial debt (excluding IFRS 16) came to €974 million in 2022, down €56 million from 2021, thanks to continued strict financial discipline and free cash flow of €94million in 2022, up €21million on 2021.
Net debt leverage ratio came to 2.7x, a -0.2x improvement over 2021, thanks in particular to the Group's operational profitability and firm control of investments. Liquidity was unchanged at around €1bn.
In addition to a new €600 million CSR-indexed syndicated loan set up in December 2021, in 2022, Keolis successfully issued its first Schuldschein private placement totalling €100 million.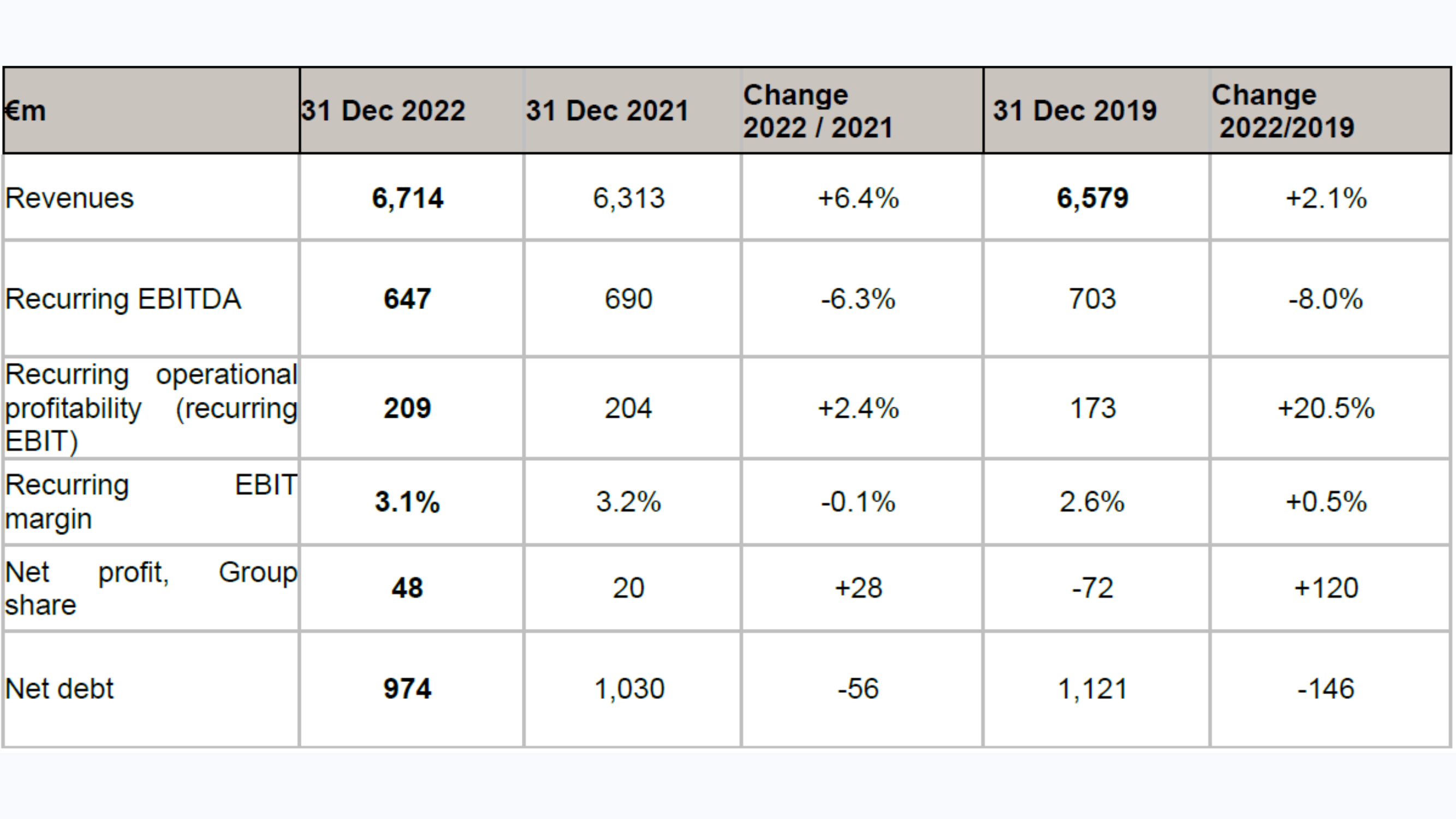 Outstanding business development thanks to consolidated positions and iconic new contracts
In France, 2022 was an outstanding year, with core contracts renewed and extended, and numerous new contract wins.
Many of the Group's urban contracts in French cities were renewed. Greater Bordeaux was the most prominent, but renewals were also signed in Dijon, Sète, Bourgoin-Jallieu and Strasbourg (technical support). Meanwhile, major new contracts came in for networks in Perpignan and Valenciennes.
Elsewhere in France, the Group won contracts for the iconic Mont-Saint-Michel as well as Senlis, Foix, and Issoire.
Meanwhile, the Group undertook several major launches: in June, Line B of the automated metro in Lyon; in July, the T13 light rail line (Saint-Germain-en-Laye to Saint-Cyr-l'Ecole) in the Paris region; and in September, Line b of the automated metro in Rennes, which registered over 120,000 journeys on its first day in operation.
Also in the Paris region, Keolis strengthened its market positions with five new bus networks: two in the département of Essonne, one in Yvelines, one in Seine-et-Marne and one serving portions of Val-d'Oise and Seine-et-Marne.
EFFIA, the Group's carpark subsidiary, consolidated its performance with both major contract renewals in Lille and Dijon, and new contracts including the emblematic Château of Versailles. At year-end 2022, EFFIA had 300,100 parking places under management (including 75,200 on-street spaces) in 244 cities in France and Belgium.
On international markets, Keolis pursued its selective growth and repositioning strategy, notably via the sale of operations in Norway.
In a sign of momentum achieved in 2022, the Group launched two major light rail networks: one in Lusail (Qatar) through Keolis subsidiary RKH Qitarat (a joint venture formed by Keolis, RATP Dev and the Hamad Group), and the first light rail line in the Danish city of Odense. In Northern Europe, Keolis won a multimodal contract in Lund, Sweden, that includes management of the city's light rail and electric bus networks.
The year also brought significant renewals, including a three-year contract to operate Thameslink, England's largest rail network, through Govia, the Group's joint venture with Go-Ahead Group.
In addition, several contracts were extended in 2022. These included a three-year extension to operate the automated metro in Hyderabad, India's second-largest network inaugurated in 2017; a four-year extension to operate and maintain a bus line, under which Keolis runs a 100% electric intercity bus network in Denmark's Northern Jutland region; and a two-year extension to operate the bus network in the Dutch city of Utrecht.
Designing passenger-centric mobility
With ridership recovering post-Covid and users gravitating to work from home and active mobility options, Keolis has taken the opportunity to reconsider mobility, seek alternative solutions, and adapt or create new services. Today digitalization, data and Keoscopie – the Group's forecasting observatory - form the basis of a targeted, efficient strategy for rethinking passenger services. These resources have also served as powerful tools in the optimisation and continuous improvement of operation and maintenance processes.
Keolis also launched Hove, a wholly-owned Keolis Group subsidiary that specializes in designing and deploying digital tools. The move reflects its commitment to understanding local mobilities, moving the transport offer in the right direction, measuring its performance, and making travel easier for passengers. This is what the Group is working on with the Greater Nancy metropolitan council, using dynamic platform Patterns CO2 to measure the carbon footprint of mobility solutions.
Recruitment critical to service quality
In late 2021, as the labour shortage hit every operator in the transport sector, Keolis kicked off a broad, multifaceted recruitment campaign to attract and retain new employees. Launched under the theme of diversity, this drive was open to all and led to a significant increase in the number of applications received. The Group also entered into various partnerships (such as Défense Mobilité and sports-based initiatives to engage minority communities), set up a "co-opting" programme and continued to invest in training for young people through its apprentice training centre network.
Finally, Keolis is working on driver timetables and shifts, which is critical to attract and retain employees.
Keolis: an actor of energy transition
Keolis has set itself the objective of reducing greenhouse gas emissions by 30% and air pollution by tripling the number of kilometres operated with alternative energies by 2030 compared to 2019, and to certify 80% of its turnover to the ISO 14001 standard.
The Group supports public transport authorities in reducing the environmental impact of their activity by providing its expertise in areas including vehicle fleet renewal and retrofitting, promotion of active modes of transport such as cycling and walking, deployment of energy, water and waste management systems and preservation of biodiversity.
For example, Keolis is supporting the Dijon metropolitan area in its hydrogen development project, the Orleans metropolitan area in its energy mix strategy to decarbonise mobility, and has put new electric buses into service in the Copenhagen region in Denmark.
Keolis in 2022:
400 million kilometres travelled using alternative energies representing over a third of the total kilometres operated and 45% of which are electric.

Energy sufficiency and efficiency plans have been defined and deployed throughout the whole Group. These plans are critical in a context of rising energy prices and climate change.

The ISO 14001 coverage rate is almost 60%. Keolis Belgium, the latest example, was certified in December 2022.
The Group also works with an ecosystem of partners. An agreement has been signed with Iveco France and Forsee Power, with whom Keolis is carrying out ongoing work to improve knowledge of the ageing of electric bus batteries.
Operational excellence as the cornerstone of quality service
Thanks to its many contracts, Keolis has implemented a continuous improvement approach to the operation and maintenance of its assets in order to achieve operational excellence. This approach is based on standardised practices and is continuously enriched by the best practices implemented within the Group. In Bayonne, for example, Keolis has applied a triple operational excellence approach aimed at improving customer relations, operations and maintenance.
The Group is deploying a comprehensive maintenance 4.0 policy, based on real-time acquisition and processing of equipment data. Using advanced digital technologies - the IoT, big data, artificial intelligence and remote diagnostics - Keolis can spot the warning signs of possible breakdowns. In July 2022, it signed a partnership with the predictive maintenance specialist Stratio.
Several Keolis networks, such as Keolis Amey Docklands (United Kingdom) and Keolis Downer (Australia), are certified under the ISO 55001 Asset Management Systems standard testifying to good long-term asset management, whilst Keolis-MHI in Dubai is on its way to achieving ISO 55001 certification in 2023.
Using workplace equality and diversity to enhance performance
To boost gender diversity and equality at the workplace, the Group has adopted a proactive policy. In 2022, 90% of the Group's workforce was employed by subsidiaries certified by Bureau Véritas under the Gender Equality European & International Standard (GEEIS). The goal is to reach 95%.
That is already having an impact in the field. At Yarra Trams in Australia, for example, the share of women in the workforce has risen from 12% to 26% over the past decade. In Normandy's "green bus" network, women account for 35% of drivers, thanks to an ongoing programme of selective recruitment in 2025.
Finally, in late 2022 the Bordeaux Metropolitan Council became the French transport sector's first mission-driven company - a clear illustration of the Group's commitment to social progress in the business world and society at large.
Keolis ended 2022 on a robust footing underpinned by a first-class portfolio of customers, operational expertise and the performance and innovation plans it has pursued for the past two years.
In France and around the world, 2023 presents many challenges. Keolis is confident that it can meet them all.
Keolis teams are focused on supporting public transport authorities in their efforts to grow public transport's usage in their communities, offering passengers solutions that meet their expectations for quality and reliability and making the vital shift to low-carbon mobilities.